Flatbed towing is incredibly advantageous for the long haul and more valuable vehicles as they can be tied down. This towing technique is quite complex. Like the wheel lift towing it also involves a hydraulic system in which a vehicle is pulled onto the bed of the truck. This has to be incredibly precise and handled by experts. If done carefully there will not be any damage to the interior or exterior of the vehicle. During transportation, the vehicles as it is off the road are also well protected from further road damage.
As explained this type of service while useful and several companies offer it you should be careful about choosing from them. A lot of companies make promises which they do not deliver. That is not the case for Find Tow Trucks, we always try to go above and beyond what is expected.
Having experienced, well-trained technicians help us give 100% customer satisfaction. They are well versed in how to operate the equipment. They also prioritize your vehicle as if it were their own. Our reliability and consistency are how we are leagues ahead of our competition. Years of experience are a good metric as well to determine whether a tow truck company can deliver the services promised. It should come as no surprise that Finds Tow Trucks also has years of experience under its belt as well. From luxury vehicles to bulldozers there are all types of vehicles we can tow.
Keep our contact information on you and whenever the need arises you should know we have your back and are incredibly affordable as well.
Most popular cities we serve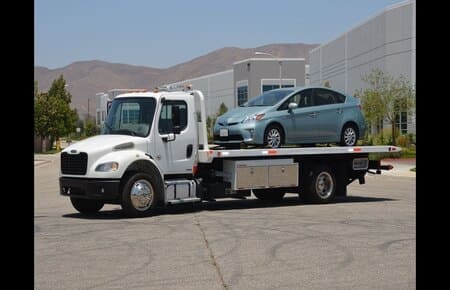 Arizona: Phoenix, Tucson
California: Los Angeles, San Diego, San Francisco, San Jose, ​Fresno
Colorado: Denver
Florida: Miami, Orlando​
Georgia: Atlanta​
Indiana: Indianapolis​
Illinois: Chicago​
Maryland: Baltimore
New York: New York City
North Carolina: Charlotte
Pennsylvania: Philadelphia
Tennessee: Memphis, Nashville
Texas: Houston, San Antonio, Dallas, Austin, Fort Worth, El Paso
Washington DC
24/7 Flatbed Local Towing Service
As a roadside assistance company, it is our job to be available whenever an emergency may strike. There are no such things as odd hours in our company. We are well prepared to deal with a variety of situations regardless of the time. Having a flatbed towing 24-hour service is important. Your safety and security are a priority. So clients get the assistance they need right on time.
Our goal is to remove your vehicle from an unsafe location to a place, where it can be repaired in a time efficient manner. We offer fast and reliable 24/7 flatbed tow truck service. Our licensed tow truck drivers are extremely reliable and professional, so you can count on them to get the job done right the first time around. We specialize in a wide ranging of towing services including:
Wrecker Service
Light and medium duty towing
Truck towing
Flatbed towing
Auto towing
Out-of-town tows
Local towing
Long distance towing
Hauling
We tow motorcycles, luxury vehicles, 18-wheelers, freight trucks, standard vehicles and heavy equipment, such as excavators and bulldozers. Whenever you find yourself in a bad position, dealing with a malfunctioning vehicle, just give us a call. Our professional team will work together to ensure an expedient and safe towing service.
Highly Recommend
I highly recommend Find Tow Truck because they know what they're doing. They were honest and very accommodating. I was well taken care of. Highly recommended!
Great customer care!
Great customer care! They work 24/7 and will be there anytime any day.
Effective Service
Find Tow Truck was there for me in my time of need! I received a swift and effective service and was charged a fair price.
[testimonial_view id="1″]